Student Credentialing
Career Planning
Some industry credentials are available to start or even complete while still in high school. If you have already been investing yourself in developing skills in a particular area, you may be able to take an industry required assessment to earn a credential that is recognized and/or required in your chosen career area.
Credentialing Certifies Success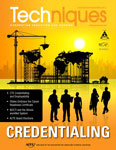 CBS News Report Video – Skilled Workforce In High Demand – Click on photo
October 12, 2011 4:17 P.M. Despite the United States going through the worst job market in decades, some businesses are in high demand for skilled labor. Elaine Quijano reports on how Allentown, PA, may have found the answer to the country's unemployment crisis.
Webinar: Ensuring Student Success in the Workplace With Industry Certifications
In a speech on release of the "Pathways to Prosperity" report, Secretary of Education Arne Duncan said, "the goal of CTE 2.0 should be that students earn a postsecondary degree or an industry-recognized certification — and land a job that leads to a successful career." Combined with a report out of Georgetown University that says about 14 million jobs between 2008-2018 will be filled by workers with an associate's degree or occupational certificate, the value and importance of industry certifications becomes clear.
Microsoft Technology Associate Certification
Microsoft® makes it easier for institutions to build and deliver technology education with a simple, convenient, and affordable suite of entry-level technology exams and certifications.
The New CTE: Secretary Duncan's Remarks on Career and Technical Education
Secretary Duncan's Prepared Remarks at the Release of the "Pathways to Prosperity" Report from the Harvard Graduate School of Education Pathways to Prosperity Project
". . . One recent study from Georgetown University projects that, from 2008 to 2018, about two-thirds of the job openings in the U.S. will require at least some postsecondary education and training. Fourteen million of those job openings will be in the middle-skill occupations, filled by workers with an associate's degree or occupational certificate.
To be a winner in the future, President Obama has urged every American to get at least a year of higher education or post-secondary career training. "Whatever the training may be," the President says, "every American will need to get more than a high school diploma."
In effect, the President has suggested that every American earn a minimum of two pieces of paper—a high school diploma, and a degree or industry-recognized certification. In the years ahead, young adults are likely to need those two credentials to secure a good job. That will become the ticket to success and a positive future. . ."
Examples of some industry credentials:
A+ Certification (Computer)
Certification (Business)
CNA—Certified Nurses Assistant (Health)
Fire Fighter I
Food Sanitation Certification (Culinary)
Hazmat
IC3 Certification—Certipost: Internet and Computing Core
Lodge Management (Hospitality)
MOS—Miocrosoft Office Specialist
N+ Certification (Network)
NATEF certification (Automotive)
National Retail Federation Customer Service Certification (Marketing)
NIMS certification (Manufacturing)
OSHA 10 Hour Safety Card (Construction)


Find Industry Certification By Career Category
Click on any of the Career Clusters below for credentials information:
Agriculture, Food & Natural Resources Credentials
Architecture & Construction Credentials
Arts, AV Technology & Communications Credentials
Business Management & Administration Credentials
Education & Training Credentials Finance Credentials
Government & Public Administration Credentials
Health Science Credentials Hospitality & Tourism
Credentials Human Services Credentials
Information Technology Credentials
Law, Public Safety, Corrections & Security
Credentials Manufacturing Credentials
Marketing Credentials
Science, Technology, Engineering & Math Credentials
Transportation, Distribution & Logistics Credentials