Organization Chart
Des Plaines Valley Region (DVR) Education for Employment Regional Delivery System is a consortium of school districts building the future for elementary, high schools and community college students through partnerships with business, industry and the community.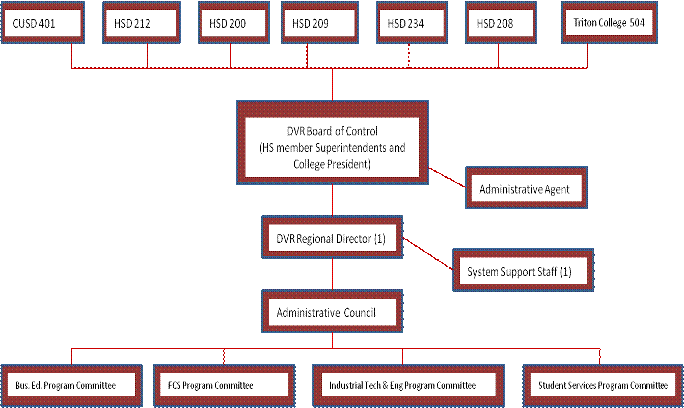 Funds for student career planning, programs of study development, enhancing academic rigor in career programs, teacher professional development, and partnerships comes from Career & Technical Education Improvement Illinois State grant, and Perkins Federal grant.  It is the policy of DVR that all grant funds must be used in accordance with published grant requirements, and in accord with Illinois Accounting standards, and the Illinois Grant Accountability and Transparency Act (GATA).  Education Department General Administrative Regulations (EDGAR) Requirements for Equipment & Real Property Management Real Property – State and Local Governments Part 80
DVR requires directors, officers and employees to observe high standards of business and personal ethics in conduct of their duties and responsibilities related to DVR.  As employees and representatives of DVR we must practice honesty and integrity in fulfilling our responsibilities and comply with all applicable laws and regulations.  All sub-recipients of grant funds are expected to follow GATA requirements and act in good faith. Any suspected violation regarding use of grant funds should be reported according to the DVR 4141-whistleblower-policy. DVR's Fraud Alert Hotline 708-799-4448.
 
 
 
 
 
Anne J. Cothran, Ed.D.
DVR Director
director@dvr-efe.org
(708) 779-4448
 
 
 
 
 

DVR Assistant

(708) 779-4786

FOIA Information:
.0605 Color copy
.0077 B & W copy