DVR Educator Workshops
Sign up through your Administrative Council Member
for FY17 DVR Workshops!
Reading in the Content Area Workshop–
Tuesday, January 24, 2017 at Riverside/Brookfield HS
Math in CTE Workshop– 
Tuesday, February 14, 2017 at PMSA
Industry Credentials
Certiport Training– Thursday, September 1, 2016 at Oak Park & River Forest HS
DVR CTE teachers earned fourteen industry credentials during this full day workshop!
___________________________________
Technical Skills
DVR Educators Gathered for Raspberry Pi Training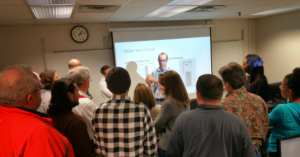 The Illinois IT Learning Exchange conducted a professional development (PD) workshop for DVR high school teachers on February 27, 2015, which was held at the Triton College M building.
The goal of the PD sessions was to help teachers become familiar with this type of technology and use the devices in their classrooms and/or after school clubs, thereby increasing students' interest in technology and creative problem-solving.   Participants also learned about a pilot challenge program for student app design using the Pi.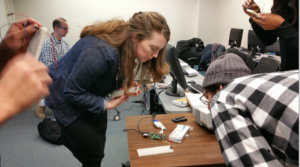 The full -day session included:  overview/intro to the device, O/S and other software and hands-on exercises:
Creation of a web server/easy web site
Use of a camera and/or sensor
Development of a python program
Brainstorming and design activities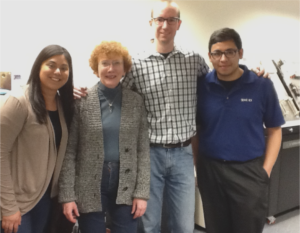 The program was presented by Joan Matz, CompTia, and Victoria Barrios, Eduardo Delira, & Guadalupe Rico  from RICO Enterprises, and Professor Michael Davis from Truman College, and Christian Reyes, Element 14.  Raspberry Pis  and peripherals for each participant were provided by the Information Technology Learning Exchange.
"Triton College Tech people were very helpful in helping us to get set up for a successful day," said  Mike Davis.  "The faculty participants were all excellent learners.  We were impressed with how quickly they grasped how to use this new technology," said Joan Matz.  This Professional Development for DVR was a pilot for training that will be made available in five other areas in Illinois.
Helpful Raspberry Pi info available at:  http://www.element14.com/community/community/raspberry-pi/raspberrypi_projects?ICID=footer_topics_raspiprojects
____________________________________
Academic Integration
In 2016 IT teachers joined with math faculty partners to integrate math standards into the technical curriculum cor computer classes. Working with Dr. James Stone, from National Center for CTE Research/SREB, DVR member schools' faculty learned about Dr. Stone's national research that supports academic integration methods, and examined ways to use academic math in the applied setting for DVR students in computer classes.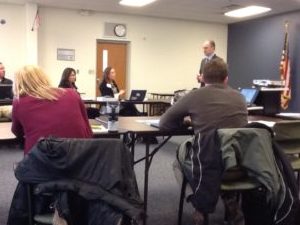 CTE teachers met for a full day with Dr. Donna Ogle to integrate proven techniques for improving Reading in the Content area into their curriculum.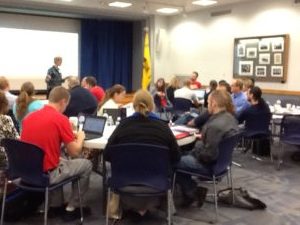 ____________________________________
Standards-based Curriculum
In 2010, 2011, 2012 CTE teachers from the DVR high schools came together for a two day workshop with Dr. Heather Sass to work on standards-based curriculum for Career & Technical Education courses. Teachers worked on specific courses they teach in the high schools to align the syllabi with appropriate standards, and make appropriate corresponding changes in how the courses will be taught.