Non-Traditional Careers
Non-traditional fields:
Non-traditional fields are occupations or fields of work, including careers in computer science, technology, and other current and emerging high skill occupations, in which individuals from one gender comprise less than 25 percent of the individuals employed in that occupation or field of work.
Benefits of Gender Diversity
An organization's success and competitiveness depends upon its ability to embrace diversity and realize the benefits. When organizations actively assess their handling of workplace diversity issues, develop and implement diversity plans, multiple benefits are reported such as:
Increased adaptability-Organizations employing a diverse workforce can supply a greater variety of solutions to problems in service, sourcing, and allocation of resources. Employees from diverse backgrounds bring individual talents and experiences in suggesting ideas that are flexible in adapting to fluctuating markets and customer demands.
Broader service range-A diverse collection of skills and experiences (e.g. languages, cultural understanding) allows a company to provide service to customers on a global basis.
Variety of viewpoints-A diverse workforce that feels comfortable communicating varying points of view provides a larger pool of ideas and experiences. The organization can draw from that pool to meet business strategy needs and the needs of customers more effectively. [2]
Diversity among employees can create better performance when it comes to out-of-the-ordinary creative tasks such as product development or cracking new markets…[3]
Additional Research & Resources
from the Illinois Center for Specialized Professional Support
Center for Women in Technology
Non-Traditional Careers – College of DuPage, Illinois
Encouraging Girls in Math & Science
Video/DVD Resources:
"Men in Nursing"
Sauk Valley Community College
Women CAN Build California Recruitment Video
Tradeswomen, Inc.
Phone: 510/891-8773
Electronic Newsletters:
WomenTech Educators
The WomenTech Educators electronic newsletter provides regular information about women in technology.
National Girls Collaborative Project
The NGCP informs readers about projects which encourage middle and high school girls to plan for nontraditional careers.
DVR is a member of the Midwest Girl's Collaborative Project
Games for Students:
Packetville Cisco Systems, Inc.
Could This Be Your Life?
ICSPS
Organizations:
American Association of University Women
AAUW advances equity for women and girls through advocacy, education, and research.
CWIT works to increase the number of women in the skilled trades and other blue collar occupations and to eliminate the barriers that prohibit women from entering and remaining in non-traditional careers.
Federation of Women Contractors
Men Teach
Is a non-profit clearinghouse for anyone seeking information about men teaching.
National Alliance for Partnerships in Equity
The National Alliance for Partnerships in Equity (NAPE) is a consortium of state and local agencies, corporations, and national organizations that collaborate to create equitable and diverse classrooms and workplaces where there are no barriers to opportunities.
Nontraditional Career Resource Center at Rutgers
The NCRC will focus on building collaborations between the education and workforce development communities to help increase awareness of 7th through 12th grade students regarding opportunities in nontraditional careers.
Women Work!
Advances economic justice and equality for women through education, advocacy and organizing.
Women Employed Institute
The mission of Women Employed is to improve the economic status of women and remove barriers to economic equity.
Women in Engineering Proactive Network
WEPAN is a non-profit organization dedicated to achieving equity in the engineering workforce. WEPAN's mission is to be a catalyst, advocate and leading resource for institutional and national change that enables the success of all women in engineering.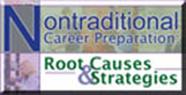 Report: Non-Traditional Career Preparation: Root Causes & Strategies
Non-Traditional Careers Information
Careers in the Construction Industry
Guide to Career Choices – IDES
Illinois Apprenticeship Development
ISBE Non-traditional Career List